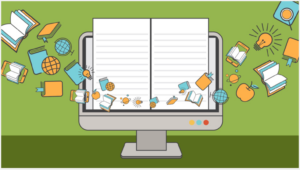 As we are all adjusting to our new normal, why not take the time to set yourself up for success with online learning? Transitioning from classrooms to online may seem stressful, but with a few helpful tips, you can properly prepare. If you have been taking classes online and are comfortable with the environment, you can still utilize the below tips to ensure you are on the track to success.
Accountability, Time Management & Success for Online Learning
Review your syllabus and notate all assignments that are due; write them in your calendar or planner. Be sure to set reminders to help you stay on track.
You can also ask your spouse or friends to help remind you when items are due.
Reach out to your teachers ahead of time if you have any questions. With online learning, you cannot simply walk-up and ask questions. Be proactive and send an email if you have a question about an assignment that is due in a week.
Consider using time-blocking; blocking off certain hours of the day focus on only ONE For example, from 9 a.m. – 10:30 a.m. focus solely on one assignment that is due. This means do not pick up your phone, turn on the TV, surf the web, anything that takes your attention away from the task at hand. Then from 1 p.m. – 2:00 p.m. you can shift gears to another class or schedule time in for lunch. Time-blocking is all about allocating specific time to complete one item; this allows you to remove distractions and move away from multitasking in order to be productive.
Remember to take short breaks; if you have not moved away from your desk in three hours, get up and walk around for 10 – 15 minutes. This is not only good for your body it is also good for your mind.
Since you are online, remember that all of your classmates are too! Connect with others on assignments you are struggling with to bounce off ideas. You and your classmates can help each other succeed! Consider proof-reading papers and exchanging tips.
Establish a comfortable and quiet workplace. While writing papers from the couch might seem like a dream, it is highly unlikely to be the most productive space. Consider using your kitchen table or desk if you have one at home.
Resources
Online learning will require you have to specific resources at your disposal to complete items. Ask yourself, "do I have access to these resources"?
Working computer
Webcam (if needed)
Internet
Microsoft Office (if you need Microsoft Office, there is a student version available, just be sure to sign up with your student email. 
Along with Resources, Consider Your Skills:
How comfortable are you working in Microsoft Office (Word, PowerPoint, Excel)
Your school's online platform (Example, Blackboard)
Typing
Downloading materials
Installing software (if needed)
Uploading assignments
Video chat sessions
Buying/utilizing online books
If you are not comfortable with any items mentioned above, be sure to reach out to your teacher as soon as possible so they can assist and/or point you in the direction of someone who can. If you wait until an assignment is due, they might not see your email until it is past the due date. Keep in mind that with online learning, some teachers state they will respond to all emails within 24-48 hours. It is best to be proactive to ensure you do not miss a deadline.