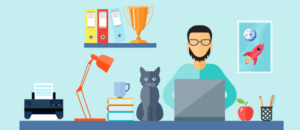 We've curated special resources to help
you during this challenging time of COVID-19 (Coronavirus). Please keep reading for education and career resources, along with a social media challenge! Don't let the Coronavirus stop you from working on your education and career goals.
 We are here for you!
AthLife E-Learning
AthLife offers an E-Learning platform with many different online courses geared toward professional development. Course options include Networking, Resume, Career Fundamentals and more. This would be a great time to take advantage of this FREE resource. For information on courses and access, please email [email protected]. 
*New Courses Available In Partnership with YellowBrick
AthLife has partnered with Yellowbrick to make its online courses through leading universities and brands available to you during this time of the Coronavirus. Available courses include Fundamentals of Global Sports Management, Streetwear Essentials, Music Industry Essentials, Sneaker Essentials and more. Click here for information on Yellowbrick courses and enrollment. 
Education Tips
If you are new to online learning, look for tutorials or videos to help you learn the software platform – your school website may have some. Online courses are a great option, just be sure to utilize the skills and best practices needed for success. Thinking about a degree? Use this time at home to research graduate school options and requirements or make a plan to complete your bachelor's degree. 
Career Tips
Take this time to network and connect with others through phone, email, or social media. People may have more time on their hands for a quick conversation or even an informational interview. Work on updating your career fundamentals or some professional development. There are also new job opportunities to consider related to the impact of the Coronavirus.

 Coaches Corner   
Amid the uncertainty of COVID-19's impact on college sports, many coaches find themselves with extra time on their hands. Coaches Corner is a place to come for professional development ideas to make use of your extra time. As a participant, you download an app to your phone and engage in the Coaches Corner discussions through the app. AthLife provides weekly content to facilitate discussion around professional development in coaching. If you are interested in participating in Coaches Corner or have questions, please email Tracy at [email protected]. Click here to sign up!
COVID-19 #AthLifeChallenge
As we practice our 'social distancing' during this public health crisis, we thought it would be fun to start a challenge to keep our days productive. Here are some ideas to keep working on your education & career goals and some personal ones too. Don't forget to post your daily challenge on social media and tag us with #AthLifeChallenge, #StayProductive, #MoreThan. Also tag your sponsoring league or union NBA, MLS, NBRPA, NFLPA, or The Trust!
We can do this! Here are some ideas to get you started.

  Good Reads